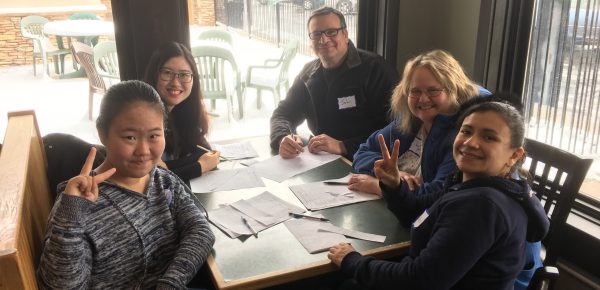 The Bible Conversation Club is a SPECIAL, in-person session of the English Conversation Club (ECC) that meets on Saturday morning on/near the OSU campus.
It is a higher-level English conversation group. This group is focused on helping you improve your English Speaking, but the topics are from the Bible and start with the first book of the Bible.  Each session is in two parts:
It begins with an exercise to get to know one another, share from our lives, and share opinions.
The second part then moves to a story from the Bible.  Focus is on vocabulary, identifying & discussing characters and themes, identifying explicit and implicit (inferred) ideas, giving opinions and paraphrasing – all higher-level language skills that are useful in OSU classes and discussion. Groups are led by Americans who talk with students individually and facilitate group conversation.
These sessions are for OSU international students, visiting scholars, or their spouses who have at least an intermediate level of proficiency in English.  These sessions level will be high intermediate.
Please sign up below and we will be in touch: