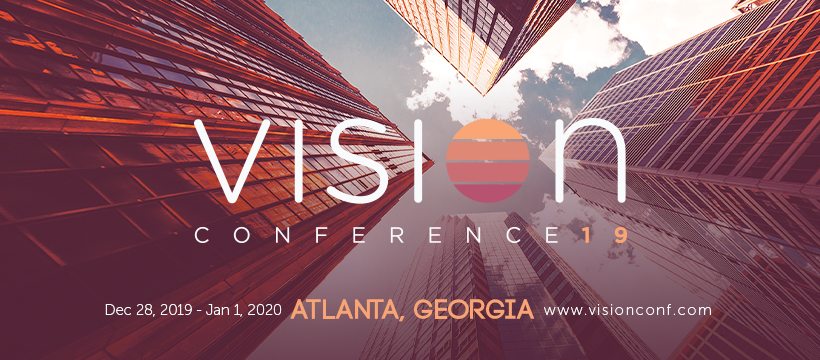 Date/Time
28 Dec 2019 until 1 Jan 2020
All Day
Map Unavailable
Vision is a 5-day conference for International students to experience Personal Growth, Global Community, and Spiritual Conversations. There is truly something for every international student at Vision. We will be staying in Atlanta, GA in a hotel where hundreds of international students will gather for this special event.
Here are some highlights of the conference:
TOUR ATLANTA, GA
Including an opportunity to visit the world famous aquarium located there!
COMMUNITY NIGHT
This special event will give you the chance to meet and have fun with other students from around the world. Show off your karaoke skills, play group games, or sit down with a new friend for coffee. There will be something for everyone at Community Night.
NEW YEAR'S EVE TALENT SHOW & PARTY
Celebrate the New Year with people from over 60 different countries the Vision Conference way! You'll experience an international Talent Show leading up to midnight, followed by a dance party highlighting music from around the world.
SPIRITUAL CONVERSATIONS
Much of the conference will be spent in Tracks: smaller groups that will help you connect more with other students from your cultural background. This is a great place to have spiritual conversations and think more deeply about questions of life and faith. These tracks will meet once or twice daily for fun, learning, and community. In the midst of a big conference, they are a great way to interact with others one-on-one. The topics will be presented from a Christian perspective but all viewpoints will be respected.
Cost:
2-person room (shared with one other person) = $425/person
4-person room (shared with 3 other people) = $275/person
Married couple = $425/person
Plus transportation costs: you can fly there or join a bus that IFI is organizing from Columbus. The cost is not yet set but will be as low as possible.
There are scholarship funds available to help offset the cost of transportation if needed.

Important note: There is a special scholarship of $100 available to those who register before September 15th! You will need to use promo codes RETURN50 and VISION50.
More information about and registration for the conference can be found at: http://www.visionconf.com/
After registering for the conference, please also complete the form below  to let us know you are planning to go.  We will send you more information to make sure you are included in the arrangements for those coming from Columbus.
Vision Conference
Sorry, this form is not available anymore.